[Estimated Reading Time:
< 1
minute]
Just a few moments ago I received an invitation to register for what I presume to be the launch event of RAD Studio XE3. 28th August is the date for your diary!

I have to presume this is the XE3 launch because "XE3" isn't actually mentioned. For that matter, the words "launch" or "release" don't feature either.  Worryingly there is also no mention of either Android or Windows 8.  Fingers crossed these are being held back as a surprise for us all.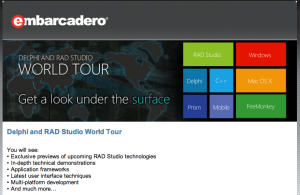 At the very least it looks like SOME information is soon to enter the public domain at last.