[Estimated Reading Time:
2
minutes]
It has been difficult to avoid the fuss being made about the "new" Linux support in Delphi. It's almost as if they didn't have a Linux offering more than 15 years ago. I refer of course to Kylix, which failed in no small part due to the quality and the cost of the tool, for a platform where "free" was the more usual expectation and open source means being able to fix your own tools instead of waiting for the vendor to deign to offer a maintenance release. So what better chance does a Delphi with Linux support stand this time around ?
Let's see…

Kylix could be used to create both server and desktop applications. This new support is limited to server applications. For now at least. But that's round one to Kylix at this stage.
Kylix was available in 3 editions: Open, Desktop and Server at price points of $0/$99 (for printed documentation), $999 and $1999.
Delphi is available in Starter, Pro, Enterprise and Architect at price points of $99, $1400, $3500 (!!) and $5,600 (!!!!). Those are NZ prices in USD.
Assuming that the Linux support is included in Starter then you can at least get started for $99 but this is unlikely. Starter Edition doesn't even support Win64, being limited to just Win32. Pro Edition users might be lucky, but again they might also be subjected to the same bait and switch perpetrated on them with the Android and iOS support, which was initially provided and then withdrawn and made subject to a separate $500 "add-on".
Of course, this is very early days for the new Linux support so you will be needing an annual subscription to ensure you get the new releases that will no doubt be necessary. So on price I think the best you can hope for is a draw in terms of comparison between Desktop Edition Kylix and Pro Edition Delphi, which cost more or less the same in real terms.
Unfortunately, it's not as if the free alternatives have disappeared in the mean-time. Even for Pascal developers, FreePascal has come on leaps and bounds in the intervening years. For example.
So it really is difficult to see why Embarcadero are quite so excited.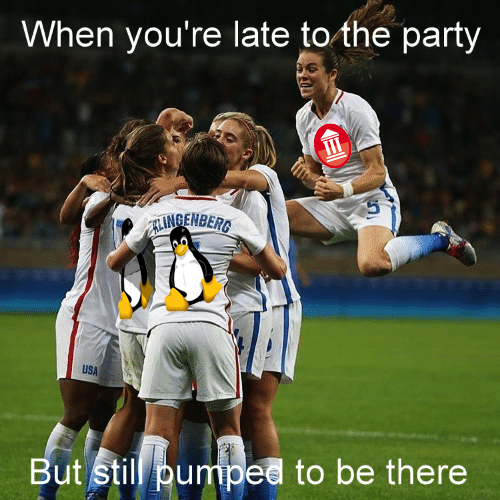 I can only begin to imagine the excitement that would be on display if they came up with a .NET offering.
Again.