[Estimated Reading Time:
2
minutes]
When discussing mobile device application development using Oxygene or other RemObjects Elements technologies, the question of user interface designers doesn't usually take long to come up (particularly with Delphi developers). Up to now the answer has always been Xcode Interface Builder for iOS/OS X, Visual Studio WinForms/WPF Designers for .Net and… um… your favourite text editor for Android (if you don't like the XML editing facilities in Visual Studio).
But not for much longer.
Actually, the response w.r.t Android is usually more along the lines of "Well, you can use your favorite Android layout designer or editor". One of those might have been Android Studio, but when I tried this in the past I found that it didn't like layout files hanging out on their on, and required them to be part of an Android Studio project/solution (or maybe that was Eclipse ?).
Either way, it didn't work particularly well (for me) and so I stuck with editing the XML.
Android Studio was perhaps the most obvious target on which to aim for any integrated solution, now being the anointed Google IDE, but that was in beta and so presumably in at least a potential state of flux.
But recently you may have heard that Android Studio went 1.0.
Whether "Going Gold" was a factor or not, hot on the heels of that development comes some exciting news from RemObjects.
Yes – integration with the Android Studio layout designer !
From within Visual Studio you simply right-click a layout file and select "Open in Android Studio" from the context menu then layout your design (or design your layout?). It's as simple as that (or appears to be – I haven't yet had opportunity to try it myself).
A 'Gifideo' has been posted in the RemObjects forums demonstrating the integration in action: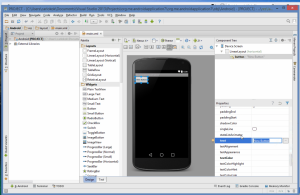 Click on the image above to see the animated GIF in action.