[Estimated Reading Time:
2
minutes]
Are you doing Android development ? Whether you are using Delphi or some other Android development tool a key tool in the Android developer's toolbox is the logcat command, part of the Android SDK. But it can be a little… how to put this kindly… crude.
So I put together a rather more useful and – dare I say attractive – front-end under the rather uninspired name of ADB WINLOG.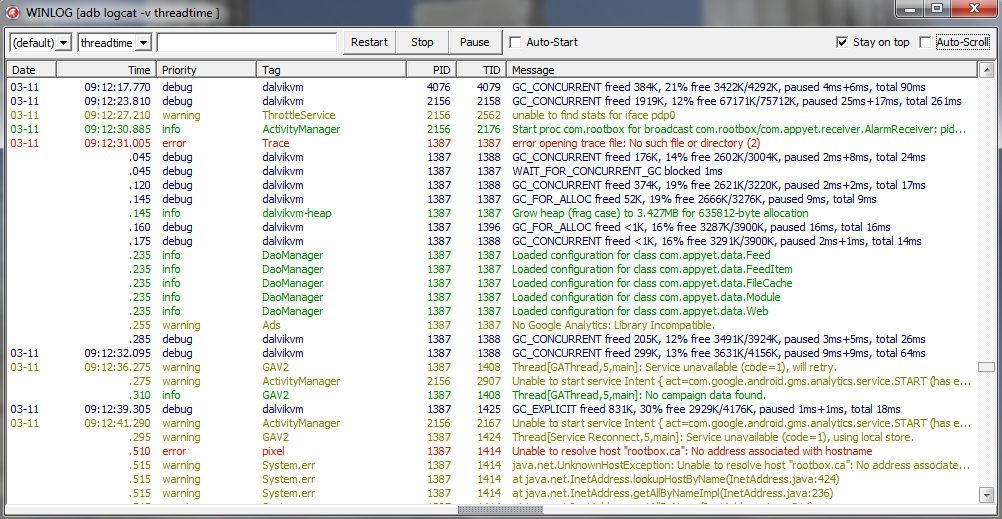 There she is!
ADB WINLOG is just the first app to be published and, I have to say, the most recently developed one as well. Currently I am distributing only as a binary but will open up the source at some point. The primary delay on that score is that it is heavily dependent on other library code of mine that I am still in the process of preparing to be shared.
You may have noticed a new menu item appearing at the top of the blog, and I hope to see this expand rapidly over the next weeks and months as I finally pull my finger out and get a whole host of code ship-shape and ready for sharing.
Not least this involves two of the technologies I most recently blogged about as I was in the process of putting ADB WINLOG itself together. Thread Synchronization Using Windows Messages and Managing Indeterminate Thread Object Lifetimes.
The application of those two technologies in this case should be obvious.
ADB WINLOG 1.0.1 is out now and ready to use. Just download (link on the overview page) and go!
As well as the overview and download page giving a brief summary of the application's capabilities there is also a more detailed user guide including links to the relevant Android SDK documentation.
Enjoy!
Also, any feedback or suggestions will be more than welcome. 🙂