[Estimated Reading Time:
5
minutes]
In a comment on my Shaggy Dog story yesterday commenter Iztok gently chastised me for not having backups of my VM's. Ironically I did. The problem is that my backup strategy is so silently effective that I completely forgot I had it ! Having been reminded, I thought it might be worth sharing.
The Good Old Days
Before I switched to Mac I went through a number of backup solutions for my various PC's over the years. Usually some combination of optical archiving for long term backups and some form of replaceable media solution and backup software for day-to-day peace of mind.
None was 100% reliable and all were intrusive to some degree or another. Iomega featured a lot in this history… first Zip drives (cumbersome – all those discs), then Jaz (unreliable – the one time I needed it it failed to restore and ultimately died completely) and finally an Iomega HDD puck/caddy system the name of which escapes me (this worked well but was expensive and unfortunately didn't last long).
Then I got my Mac and, based on my experiences of similarly supposedly effortless backup systems for PC's, I was initially skeptical of Time Machine. Not any more.
Time Machine is completely reliable and entirely unobtrusive. Of all things Apple it perhaps best embodies the "It Just Works" aspect of the Apple approach.
Time Machine backs up everything – system HDD and external HDD's. You have to explicitly exclude drives and/or folders to have them not included. It automatically and unobtrusively keeps hourly backups for the past 24 hours, daily backups for a month and weekly backups thereafter, deleting the oldest backups only to make room for new ones.
The only indication you generally have that Time Machine is doing it's thing is that the icon in the Mac menu bar quietly spins while it is taking the hourly backups. VM snapshots are a bit more noticeable, but I'll get to that in a minute.
On my Mac at work with a measly 1TB drive dedicated to Time Machine duty I have backups going back to January 2012 without ever having lifted a finger !
As I mentioned in the Shaggy Dog story, VM images can be significantly large files (actually with Parallels a VM is a "bundle" – which ultimately is a folder rather than a file, but the point remains). If Time Machine were to include changed virtual machine files on an hourly basis it would quickly fill even a 1TB volume.
Fortunately the VM solution I use – Parallels – has specific support for Time Machine.
Backup options can be set in different ways to work with Time Machine on a per VM basis. You can exclude a VM entirely if you manage a backup separately (or just don't or need it backed up), or have it simply included as a regular file, or you can have Parallels take snapshots that will allow Time Machine to backup only those snapshots as needed.
When creating Snapshots (SmartGuard in Parallels parlance) you can define your own schedule or have it synchronized with Time Machine itself.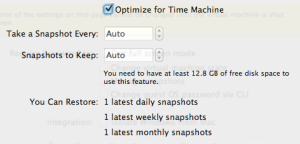 It should be mentioned that when a snapshot is taken the VM must be suspended, which occurs automatically. You can opt to be notified first in which case you can cancel the snapshot if you are in the middle of something that you'd rather not be interrupted. But snapshots take only a few seconds so I generally leave everything set to automatic.
That all takes care of my carefully configured VM environments.
The problem this week I think was that I was so engrossed in my problem – and Time Machine so unobtrusive – that when I needed to go back to a VM I had deleted I completely forgot that Time Machine had me covered!
Had I actually "lost" something entirely I would likely have remembered but it was just a question of inconvenience rather than catastrophe. And of course, as I mentioned in my reply to Iztok's comment, on this occasion my somewhat embarrassing Senior Moment led directly to the discovery of a bug and a resolution that might not otherwise have been uncovered. 🙂
The data that my VM's exist to work with is all on an external HDD.
As mentioned, this is also covered by TimeMachine. The really important stuff is kept in various cloud-backed storage locations. Of course this is primarily for sharing between machines, not part of the backup strategy as such, but it does mean that if my system ever died completely I could quickly get to the current data from my other devices without having to rebuild/repair/restore anything.
But Backup is Only Half the Story !
Indeed, and the other half is restoring from those backups. And here again Time Machine is leaps ahead of any backup/restore solution I ever came across before.
To restore something from Time Machine you first simply "Enter Time Machine" itself. In this mode, Time Machine takes over your entire display, presenting a rather whimsical star field as a backdrop (I'd like to be able to pick a Marty McFly and/or Doc Brown moment myself, but I can't have everything :)) to a simple file browser window and a timeline.
Obviously, if the particular folder you are viewing in the file browser is excluded from Time Machine then you lose the ability to navigate through time and can only see "Now".
But otherwise you can navigate the file system in the file browser window and see exactly what your system looked like at the point of time currently selected in Time Machine. The initial time is "Now". You can then step back or forward through time one snapshot at a time or you can use the timeline to jump straight to a specific moment in time.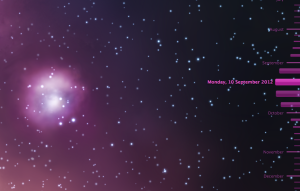 However you choose to navigate through time, the file browser updates to reflect the chosen moment. Not the differences, just exactly how it looked, what files, folders etc were there, at that time.
You might be able to discern my interests of a year ago from the different contents in my Downloads folder at that time.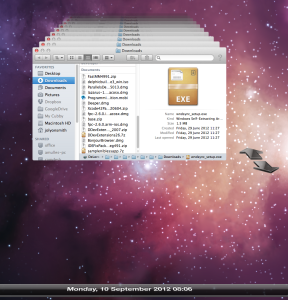 Once you have found the file(s) you want or need, click "Restore" and you will be asked where you want to put the restore file – either in it's original location or somewhere else.
Now all I have to do is make sure to remember that I have this covering my a** in future! 🙂