[Estimated Reading Time:
< 1
minute]
I am preparing a post inspired by my recent travels to Ukraine and the United Kingdom, but in the meantime I couldn't help but smile (ok, "smirk") when following a link to an Embarcadero page entitled "Delphi for iOS Kick Start", that appeared in the DelphiFeeds, um, feed.

I have now bought the RemObjects solution for .NET, Android/Java and iOS/OS X development in the form of Oxygene (posts on that front also coming soon), but I was curious to see how Embarcadero were positioning their approach.
It would seem that they are still figuring that part out too: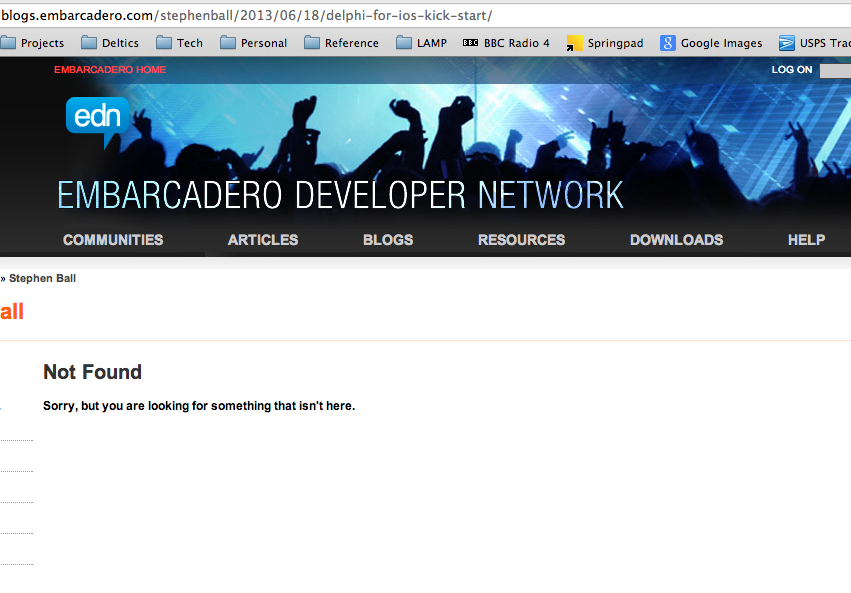 No doubt the real page will appear at some point, or maybe it was a reference to an Embarcadero project to get something going on Kick Starter to deliver something to replace FireMonkey, which would explain why it doesn't exist yet ? Maybe. 😉
Yes, it's a "cheap shot", but it is meant in a light hearted "this raised a chuckle" fashion, not to be taken as a serious criticism of EDN.
Update: Bruce McGee kindly provided the link to the article intended to be posted on EDN under this title. Presumably they changed the URL after DelphiFeeds had already picked up the post.