Some people have taken issue with my chagrin at the way in which iOS support has been mis-handled in Delphi, implying or in some cases directly stating, that iOS was only ever in beta before and so I had no right to expect "real" product to be delivered at no extra cost.
I take issue with this.

Just because iOS support was only officially in some sort of beta or preview state in XE2 and just because it was not on the "feature matrix" (actually, it was) for that release, does not alter the perception given to customers – existing and prospective – when weighing the cost of upgrade or purchase of XE2.
Is this some failing of memory on my part ? Was I, and were others like me, just projecting our own hopes and desires unrealistically ?
I don't think so.
Even to this day, Embarcadero's marketing materials for XE2 proclaim their support for iOS prominently. Nowhere is it indicated that these capabilities are only a preview of a product that is yet to be delivered and which will cost almost as much as a new release upgrade when it is finally delivered. Let alone that in between times those capabilities will be withdrawn entirely.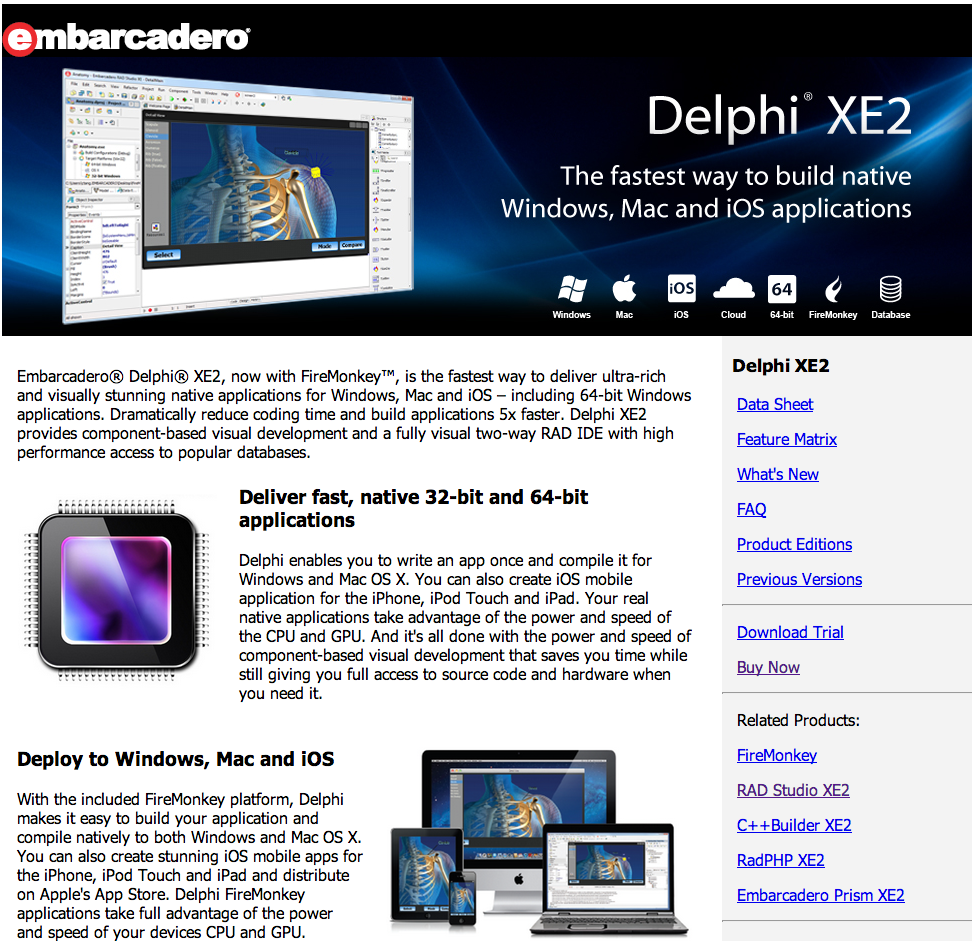 Some choice quotes from this material:
The fastest way to build Windows, Mac and iOS Applications
You can also create iOS mobile application for the iPhone, iPod Touch and iPad.
Deploy to Windows, Mac and iOS
You can also create stunning iOS mobile apps for the iPhone, iPod Touch and iPad and distribute on Apple's App Store.
And in the Feature Matrix, that tag-line about building Windows, Mac and iOS application is repeated, along with explicit reference to "FireMonkey for iOS":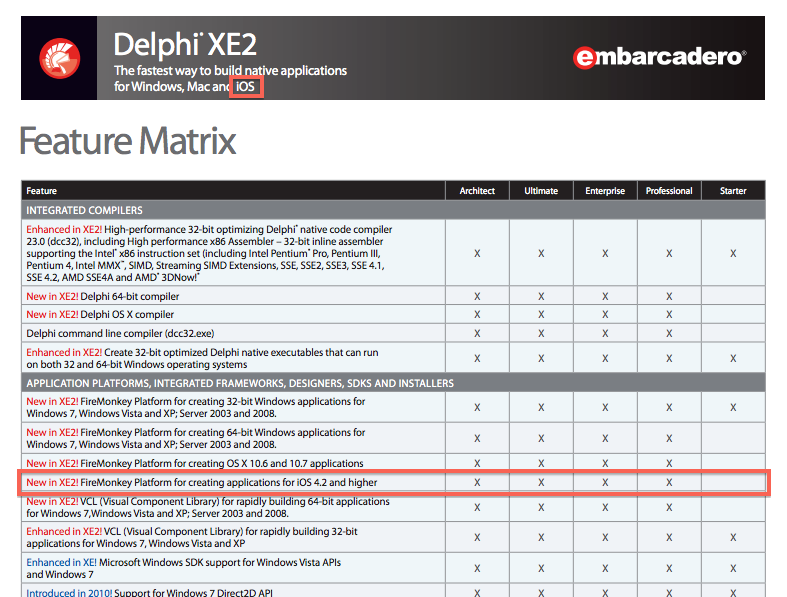 If it says anywhere that "iOS capability is preview technology only and may be withdrawn in a future release and made available only in a product at extra cost", then I for one cannot see it.
Was I dreaming ? Was I subject to some sort of hallucination ? Am I dreaming and/or hallucinating still ?
Or is it simply that there are some people for whom Embaracerdo can do no wrong no matter how hard they seemingly try to deliberately screw over their customers ?
(MVP's being an obvious subset of this group, since they are obliged to speak no evil of their benefactors by virtue of their MVP status).
Some people have said I have "anger issues" in this area (although they confuse that anger as being directed at only limited expressions of the much larger issue). And they are right. There are issues over which I feel I have a right to be angry. And judging from the comments on my posts and elsewhere, I am sadly far from alone.
What I haven't yet seen suggested by anyone, surprisingly, is that this isn't in fact an "extra cost" at all.
That, since this is a new release, the fact that the cost of upgrading with iOS support is less than the usual upgrade cost to a new release represents effectively a zero-cost – or indeed even a discount – for the new feature that is is simply being delivered as part of the new release.
The problem with this argument is that it has been barely more than 6 months since the last time this customer cow was milked, and the price being asked on this time around of the dairy-go-round, whilst less than the usual annual round of upgrade fees, is only just lower.
Meanwhile, the upgrade fee for anyone not taking the new iOS support is a trifling $49. We should of course be cheering about this, but since this represents little more than charging for what is and should be for those customers a "hot-fix", representing nothing more than bug fixes (and indeed, some all new, shiny bugs even in code that previously was fine), it is difficult to summon such enthusiasm. Indeed, it just serves to emphasise further exactly what is going on.
It will be interesting to see what transpires when XE5 is released, and how that will be priced and how that pricing will look when set alongside the pricing of this "interim release with add-on" masquerading as a new release.
Always assuming of course, that there remains anyone even remotely interested in XE5 sufficiently to look at such things.
It also establishes a dangerous precedent.
For everyone handing over their $'s for the iOS support that is comforting themselves with the thought that their "mobile" upgrade will include Android in the future, you should bear in mind that – as outlined above – many of us thought that we were going to get iOS in much the same deal when we bought or upgraded to XE2 (with SA). Indeed, we might have reasonably expected that Android support now, yet iOS has only just arrived after what now can only be described as a "false start" almost 2 years ago.
So maybe you will have Android support by, what, 2015 ? (Assuming that Embarcadero only need to get it wrong once as they did with iOS).
But don't be surprised if – assuming they can deliver on Android at all – Embarcadero pull the same bait-and-switch stunt on you all again, and charge for an "Android add-on" in the same way that they chose to do with iOS. Given it's apparent success in some quarters, They might even attempt a complete re-run, with a "preview" in XE5 that is pulled in XE6 and then finally released, at further extra cost, in XE7.
After all, there seem to be enough suckers out there willing to take such treatment and not only that but also if not defend it then at least challenge criticism of it.
What ? You don't think this will happen ? I strongly suggest you get a written, binding statement from Embarcadero to that effect. You would have to be a fool to trust them without it.